Join our awesome team to work hard, make a difference and succeed in a fast-paced environment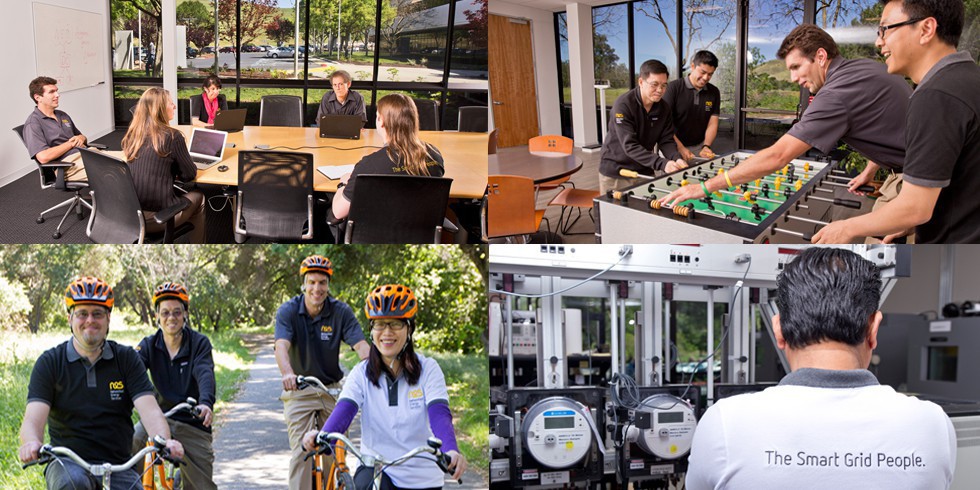 Do you want to help change the world? 

Networked Energy Services is helping to usher in a new era of safety, efficiency and reliability for electrical utilities all over the world. With some of the most talented minds in the industry, we are developing leading edge software, communications, and electrical grid sensing solutions to help utilities distribute electricity in innovative ways while incorporating renewable energy sources in an efficient and safe manner. We are also enabling end users to become active participants in energy conservation to help preserve our precious resources and promote green habits to help make the world a better place. We are able to achieve our vision through deep industry knowledge and experience, the pursuit of superior products, a passion for quality, and a healthy dose of light-hearted humor and fun.

We're growing and need your help to continue our great progress. Ask yourself if NES is a good fit for you.
You are energized by new technology, emerging markets, aggressive goals and challenging assignments.
You feel rewarded seeing products you helped design, build, and sell get deployed throughout the world.
You seek out and appreciate a team of intelligent, motivated and inspiring individuals across every discipline.
You enjoy working in a close knit team where professionalism, mutual respect, teamwork, discipline and commitment are kept in high regard.
You care about global issues and want to contribute to something meaningful for generations to come.
Make a difference in the world. Join NES and help us reign in a new era of energy management and conservation.

We're always interested in working with passionate and professional people. If you are interested in working with us,
please email us at hr@networkedenergy.com
Poland Career Opportunities
Job Title Location
Devops Azure Engineer Warsaw, Remotely
We are recruiting for the vacancy of DevOps Azure Engineer.

EXPERIENCE
Minimum 3 years' experience as devops background and experience with MS Azure cloud
Experience in maintaining on-prem and cloud servers
Experience in development and production operations supporting a high available SaaS or cloud operation.
Experience with release automation configuration and debugging.
Experience with implementing continuous integration and continuous deployment processes.
Experience in developing and maintaining scripts using Power Shell,
Familiarity with operating systems
Experience with agile
Experience with build tools
Knowledge of Tomcat / IIS / Nginx
Ability to create scripts for Azure command line tools in Bash and / or Python and / or SON etc;
Proficiency in English

EDUCATION

Bachelor's degree in engineering, computer science or science

JOB DESCRIPTION / RESPONSIBILITIES
Deploy and scale infrastructure on Azure for multiple build environments (Dev, Test, Beta, QA, Prod)
Create and maintain the software configuration management system.
Automate and maintain the software build process
Automate software deployment and monitoring.
Develop operational procedures and practices
Implementing DevOps process
Establishing CI/CD pipeline
Standardizing configurations
Deploying, maintaining and securing development environments
Improving development process
Senior System Analyst Warsaw, Remotely
We are recruiting for the vacancy of Senior System Analyst.

EXPERIENCE
IT knowledge – the primary role of a System Analyst is evaluating a company's current software and computer systems and determining what, if any, changes, or improvements are needed. This requires in-depth knowledge of IT and computer science principles
Analytical thinking – because they evaluate the effectiveness of processes and software systems, functional business analysts must know how to assess a company's current system and identify areas of improvement. They use this same knowledge to evaluate how new systems work
Critical and creative thinking – evaluating software systems and suggesting changes is not always straightforward, so analysts look at these systems from a big-picture perspective to see all the available choices. This often requires coming up with solutions that are different from how things have always been done and that are unique or innovative
Interpersonal skills –analyst works closely with people at all levels of the organization. Since they collaborate with people from a wide range of backgrounds, strong verbal and written communication skills are crucial
Leadership skills – as the driving force behind analysis and change analyst uses leadership skills and persuasiveness sell ideas and encourages the company's employees to cooperate with suggestions and plans
Good knowledge of English allowing understanding of external and internal requirements in English, preparation and understanding of project documentation in English, exchanging information with members of the project team in English
Knowledge of energy sector will be an advantage
Knowledge of Sparx Enterprise Architect will be an advantage

EDUCATION

Bachelor's degree in engineering, computer science or science

JOB DESCRIPTION / RESPONSIBILITIES
Analysing Existing Systems
Evaluating a company's current software system and analysing how well it meets the needs of organization and its clients
Translating technical subjects or jargon into language that stakeholders can understand developers can understand.
Translating natural subjects into technical jargon developers can understand.
Simulating and recommending changes
Modelling software
Writing Documentation Troubleshoot Software and Systems
Europe Career Opportunities
Job Title Location
Operations Project Manager Europe, Remotely
We are recruiting for the vacancy of OPS Project Manager.

EXPERIENCE
Experience managing large scale infrastructure programs on an international level
Experience establishing manufacturing sites/factories for electronics products
Stakeholder and Negotiations skills
Contract Management
Understanding of Engineering Mechanical and Electronic
Project Management

EDUCATION

Relevant tertiary degree in either business, Finance or Engineering

JOB DESCRIPTION / RESPONSIBILITIES
Support major Projects across all NES functions.
Provide professional project management skills across planning, reporting and stakeholder management that ensure the desired result is achieved in an efficient manner.
As the Project lead the aim of the role is ensure compliance with agreements and maximize the returns for NES while maintaining excellent relationships with all key stakeholders.
Understand the priorities from the Operations Director and CTO.
Understand the contractual framework and develop a detailed plan that efficiently achieve the project goals.
Coordinate with engineering, operations, procurement and finance to ensure activities are performed and any issues/risks are mitigated, escalated and reported.
Develop and maintain the master project plan.
Timely reports showing any risks the mitigation plans associated with timing and costs.
Drive sourcing and Cost Reduction projects defined by CPO and OP's Dir. with suppliers and potential suppliers.
Escalate issues to COO
Report performance weekly and monthly
If you are interested in the above job offer, please send your application to: hr@networkedenergy.com
Regional Sales Executive Southern Balkans
Experience

In-depth understanding of a utility sector.
Experience selling to utilities, telco, ICT
Account management / BD experience
Demonstrated results-driven focus
Client success orientation
'Can do' mindset
strong English
Education

Bachelor's degree in engineering.
Job description / responsibilities
Sales & BD – tireless hunter developing and executing account sales strategy, power map, and pain chain tree to win a utility company's organizational support for a contract award to NES.
Client success orientation – strong ownership for Customer satisfaction and project success
Relationship management & Stakeholder orchestration – skilled at developing relationships at all organizational levels including technology, operations and project departments
Project Management: - responsible for the co-ordination of resources with aim to exceed customer expectation in solution deployment.
Team orientation - working with the TAMs, Product Management, Engineering, Finance and Operations teams, to ensure fulfillment of customer expectations
To apply to the above job vacancy, please contact: hr@networkedenergy.com