Join our awesome team to work hard, make a difference and succeed in a fast-paced environment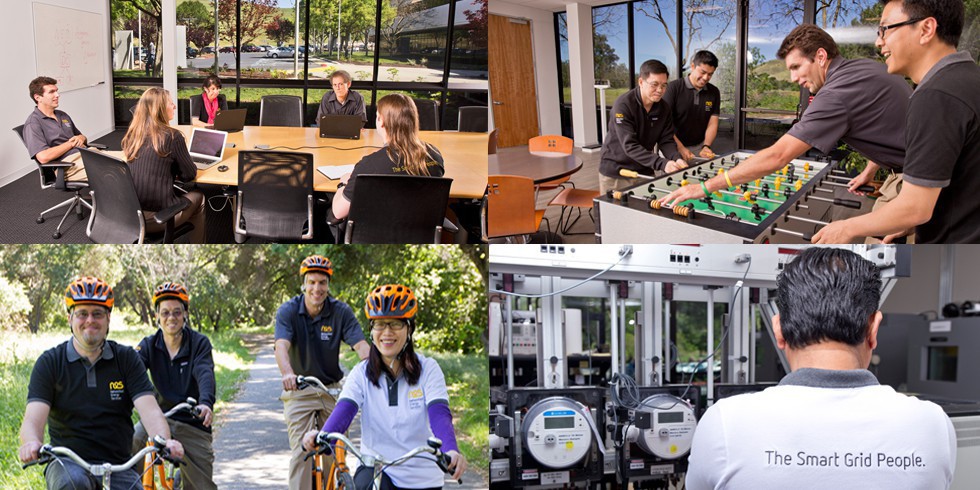 Do you want to help change the world? 

Networked Energy Services is helping to usher in a new era of safety, efficiency and reliability for electrical utilities all over the world. With some of the most talented minds in the industry, we are developing leading edge software, communications, and electrical grid sensing solutions to help utilities distribute electricity in innovative ways while incorporating renewable energy sources in an efficient and safe manner. We are also enabling end users to become active participants in energy conservation to help preserve our precious resources and promote green habits to help make the world a better place. We are able to achieve our vision through deep industry knowledge and experience, the pursuit of superior products, a passion for quality, and a healthy dose of light-hearted humor and fun.

We're growing and need your help to continue our great progress. Ask yourself if NES is a good fit for you.
You are energized by new technology, emerging markets, aggressive goals and challenging assignments.
You feel rewarded seeing products you helped design, build, and sell get deployed throughout the world.
You seek out and appreciate a team of intelligent, motivated and inspiring individuals across every discipline.
You enjoy working in a close knit team where professionalism, mutual respect, teamwork, discipline and commitment are kept in high regard.
You care about global issues and want to contribute to something meaningful for generations to come.
Make a difference in the world. Join NES and help us reign in a new era of energy management and conservation.

We're always interested in working with passionate and professional people. If you are interested in working with us,
please email us at hr@networkedenergy.com
Poland Career Opportunities
Job Title Location
Manufacturing Engineer Gdansk
We are recruiting for the vacancy of Manufacturing Engineer.
EXPERIENCE
4+ years in manufacturing engineering
Quality assurance and management
Data analysis and processing
Knowledge of standards such as: ISO, IPC
Computer skills
English language (spoken/written)
PREFERRED:
Availability to travel abroad
Software development skills
IPC 610D - certificate
6 sigma - green/black belt
SQL knowledge
LOCATION

Poland-Gdansk
EDUCATION

Bachelor's degree in Computer Sciences or Computer Systems
JOB DESCRIPTION / RESPONSIBILITIES
Responsible for New Product Introduction (NPI).
Develop and improve manufacturing processes by studying product and manufacturing methods.
Ensure the highest quality standards achieved by the CMs in regard to the PCBA manufacturing, product assembly, test and packaging.
Write, update and check the documentations to ensure compliance with all the NES guidelines, processes and regulatory requirements.
Develop manufacturing processes by studying product requirements and certifications such as ISO, MID module D, METAS.
Research, design, modify, test, and document the manufacturing methods and equipments.
Interface with equipment vendors, product development teams, manufacturing test development teams and contract manufacturer.
Assure product and process quality by testing finished products and process capabilities. Manage source and incoming inspections.
Provide manufacturing decision-making information by calculating production labor, cycle times and material costs.
Review production schedules. Estimating future requirements. Anticipate issues and propose pro-active solutions and corrective actions.
Prepare product and process reports by collecting, analyzing, and summarizing information from manufacturing systems.
Review regularly the production throughput, yields and quality and keep track of the corrective actions.
Provide manufacturing engineering documentation and requirements of: NPI, PCBA assembly, traceability, product handling/packing.
Present technical information to engineers and management.
Senior Software Architect Warsaw (Warszawa)
We are recruiting for the vacancy of Senior Software Architect.
EXPERIENCE
Angular and JavaScript/TypeScript development skills
RESTful services development
SOAP and XML
Java and C# Programming
Relational Databases
Enterprise Integration Patterns
Developing web applications
Microservices patterns
Messaging Patterns
5 years experience as Java Developer
3 years experience as Tech Lead
Knowledge of:
- Spring-Boot
- Spring-Data
- Spring-Security
- Spring-Web
- ORM – hibernate preferred
- Maven
- PowerShell
CI/CD principles
Experienced with Azure Cloud platform
Agile methodologies
LOCATION
Warsaw
EDUCATION
Bachelor Degree in Computer Science
JOB DESCRIPTION / RESPONSIBILITIES
Development and implementation of basic assumptions for the creation of the System
Indicating optimal solutions that meet business requirements as part of creating programs and applications within the framework of the adopted assumptions
Designing system architecture of products in terms of new components and modifications
Care for designing solutions that meet safety and performance requirements
Identification of hardware environment, infrastructure and software requirements
Cooperation with business owners to understand the needs and design the best solutions
Selection of technologies, products and tools
Identification and management of risk factors related to the adopted architecture and technology
Coordination and control and implementation of System components, including installation in indicated environments
Recommending and introducing new technologies as part of the System's production
Creating documentation of the System architecture and its components at all levels of detail - including the System database, the System architectural components, data flows and integration with external systems.
Designing of IT system components in accordance with the guidelines of functional requirements and their analysis carried out by the Business Analyst - backend,
Supporting searching, analyzing, diagnosing and removing errors created during code writing (debugging), found during unit and cross-section tests and reported by end users during their tests
Supporting troubleshooting database performance issues
Reporting of planned and implemented works in the system used in the project for supporting the production, testing and debugging of software
Creating system documentation in accordance with the guidelines provided by the Business Analyst. Assist in other technical activities related to NES activities, such as supporting certification, training, sales, partner education, marketing events and providing marketing materials
Develop software applications and tools/scripts based on requirements from customers, support and field engineers and professional services team.
Help identify opportunities to up-sell services and software solutions which may be relevant to customers, based on their requests for support and tools.
International Career Opportunities
Job Title Location
Software Developer New Delhi, INDIA
We are recruiting for the vacancy of Software Developer.
EXPERIENCE
Minimum 5 Years of Software Development experience in IT /Utility Industry.
Fluency in English and Hindi .
Relevant Minimum Experience of Software Design and Testing in AMI Field in Utility industry in India for minimum of 3 years.
Good understanding of Head End System, Meter Data Management System, REST API, DLMS Protocols, Communication over Cellular / RF / NBIoT / PLC.
LOCALE
New Delhi-India
EDUCATION
B. E. / B. Tech / Equivalent / Higher
JOB DESCRIPTION / RESPONSIBILITIES
Technical Knowledge and Experience of:

- JavaScript/TypeScript, Angular 2+, HTML5, CSS3, WebPack, MVC and developing enterprise class applications,
- RESTful and Web Socket API design principles, XML and SOAP, Maven, using design patterns, experience in TDD,
- working with JIRA. Confluence, Bitbucket, Bamboo or relevant systems,
- SQL language & Maintaining existing applications, Features analyzing, Code refactoring,
- Cloud Infrastructure, Micro Services.

Creating technical specifications for back-end server software and RESTfull services.
Developing automated unit tests and integration tests.
Customization, Maintaining, Testing, Bug Fixing of NES AMI Applications as per business needs of different market requirements.
Integrating the NES Grid Applications with different type of Metering and communication systems and different type of MDM and Billing systems.
Integrating the NES Grid Applications with third party Analytical Systems.
Developing new features in the NES Grid Applications as per business need of different markets specially India.
Ensuring high quality of provided solutions and clean code as per NES R&D Practices.
Collaborate with internal teams to determine the best implementation of functionality throughout the NES product stack.
Firmware Engineer New Delhi - INDIA
We are recruiting for the vacancy of Firmware Engineer.
EXPERIENCE:
Minimum 8 years' experience in Firmware/Embedded Domain.
Knowledge of communication protocols, MODBUS, RS-232, SPI, DLMS etc.
Sound experience on C/C development platform.
Sound knowledge of Micro-Controllers and Micro-Processors.
Extensive knowledge of C#, C, Assembly, MQTT, DLMS, MODBUS, RS232/485, ARM/PIC based controllers and related IDE.
Must have experience and understanding of communication technologies such as PLCC, RF mesh, GPRS/LTE/NBIoT etc.
Understanding and working knowledge of IS 13779, IS15959(Part 1 and Part 2), IS16444, and IS 15884.
Understanding and working knowledge of different make microcontrollers (ST/Renesas/Other Popular MCU).
Working experience with tracking systems such as Atlassian Jira, and source control systems such as Git and Perforce.
Understanding on Device Driver development.
Proficiency in English.
LOCALE:
New Delhi-India
EDUCATION:
BE / B. Tech. / M. Tech / Equivalent
JOB DESCRIPTION / RESPONSIBILITIES:
Responsible for conceptualization, design, architect, development, testing, end to end integration, and implementation of firmware applications to support NES product offering.
FW Design, implementation and debugging for resolution of complex issues.
Able to provide robust and stable design with optimum resources in terms of memory and processor.
Responsibilities will include Design and development of new and existing products for smart energy meter and IoT devices.
Specific product areas are Smart Energy Meter Single Phase, Three Phase, CT Meter, Home Area Network, remotely controlled equipment and many more. This position requires the ability to support both new and existing products through the entire life cycle from concept to product retirement.
Coordinate and work closely with Smart Energy Meter Firmware R&D team to develop robust Product.
Experience in developing products optimized for performance / scale. (Standard practices, performance characterization, debugging).