Join our awesome team to work hard, make a difference and succeed in a fast-paced environment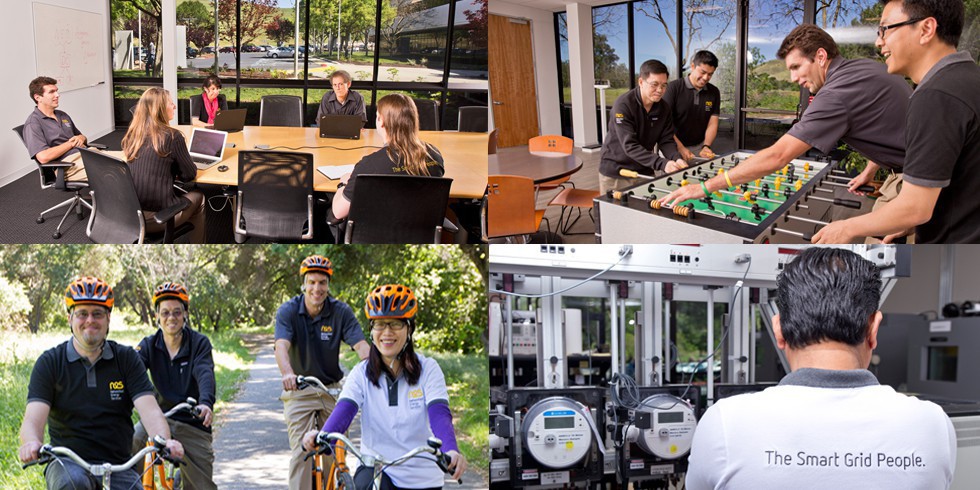 Do you want to help change the world? 

Networked Energy Services is helping to usher in a new era of safety, efficiency and reliability for electrical utilities all over the world. With some of the most talented minds in the industry, we are developing leading edge software, communications, and electrical grid sensing solutions to help utilities distribute electricity in innovative ways while incorporating renewable energy sources in an efficient and safe manner. We are also enabling end users to become active participants in energy conservation to help preserve our precious resources and promote green habits to help make the world a better place. We are able to achieve our vision through deep industry knowledge and experience, the pursuit of superior products, a passion for quality, and a healthy dose of light-hearted humor and fun.

We're growing and need your help to continue our great progress. Ask yourself if NES is a good fit for you.
You are energized by new technology, emerging markets, aggressive goals and challenging assignments.
You feel rewarded seeing products you helped design, build, and sell get deployed throughout the world.
You seek out and appreciate a team of intelligent, motivated and inspiring individuals across every discipline.
You enjoy working in a close knit team where professionalism, mutual respect, teamwork, discipline and commitment are kept in high regard.
You care about global issues and want to contribute to something meaningful for generations to come.
Make a difference in the world. Join NES and help us reign in a new era of energy management and conservation.

We're always interested in working with passionate and professional people. If you are interested in working with us,
please email us at hr@networkedenergy.com
Poland Career Opportunities
Job Title Location
Senior Software Engineer-Manufacturing Systems Gdańsk
EXPERIENCE
3+ years' experience with database, library, and application development
T-SQL, stored procedures, views, reporting
.NET/C# applications and libraries, C++
Strong diagnostic and debugging skills
Fluency with TestStand
English language (spoken/written)
PREFERRED
ASP.NET web forms experience
Lab Windows/CVI experience
Experience with Agile development methodology
LOCALE
Poland-Gdansk
EDUCATION
BS degree in Computer Science, Electronic Engineering or equivalent
JOB DESCRIPTION / RESPONSIBILITIES
Coordinate with internal manufacturing, product engineering and customer support teams to write test requirements and specifications
Coordinate with external development/manufacturing partners responsible for developing test equipment
Support NES and CEM production facilities with the introduction and ongoing maintenance of new test equipment
Design, spec, create and maintain factory-related tools and database applications
Deploy new and updated test applications/tools to factory personnel, with operational documentation
Develop libraries for use in manufacturing and customer support applications (C#)
Analyze and continually improve existing test sequences
Maintaining legacy code (C++, C#)
Production Leader Gdańsk
We are recruiting for the vacancy of Production Leader.
EXPERIENCE
1 (one)

year experience as a Production or W/H Leader

Well organized

H&S knowledge

English - basic

Assembly skill - 1 year

Ready for 2 shifts operations

Desired: 2 years as a production or W/H leader in an electronics environment
Coaching, leadership, and development - 1 year

Lean Manufacturing knowledge (5S, VSM, SMED, etc.)
English - communication skills

Microsoft Office - intermediate skills
Test electronics device - 1 year
Experience in preparing and distributing materials
LOCALE
Gdansk
EDUCATION
Technical High school / High level education in engineering preferable
JOB DESCRIPTION / RESPONSIBILITIES
Manage and coordinate production and warehouse teams
Manage production and warehouse areas
Organize and control production process and material flow without delay
Resource planning
Cooperate with manufacturing engineers to achieve optimal production process
Problem solving and delivering on time planned quantities

Results reporting and providing solutions

Responsible for H&S of production and W/H
Meter assembly according to work and engineering instructions
Meter testing according to work and engineering instructions
Co-operation with Planner, W/H, and Engineering
Production Facility maintenance
Responsibility for timely and accurate production processing
Senior Software Architect Warsaw (Warszawa)
We are recruiting for the vacancy of Senior Software Architect.
EXPERIENCE
Angular and JavaScript/TypeScript development skills
RESTful services development
SOAP and XML
Java and C# Programming
Relational Databases
Enterprise Integration Patterns
Developing web applications
Microservices patterns
Messaging Patterns
5 years experience as Java Developer
3 years experience as Tech Lead
Knowledge of:
- Spring-Boot
- Spring-Data
- Spring-Security
- Spring-Web
- ORM – hibernate preferred
- Maven
- PowerShell
CI/CD principles
Experienced with Azure Cloud platform
Agile methodologies
LOCATION
Warsaw
EDUCATION
Bachelor Degree in Computer Science
JOB DESCRIPTION / RESPONSIBILITIES
Development and implementation of basic assumptions for the creation of the System
Indicating optimal solutions that meet business requirements as part of creating programs and applications within the framework of the adopted assumptions
Designing system architecture of products in terms of new components and modifications
Care for designing solutions that meet safety and performance requirements
Identification of hardware environment, infrastructure and software requirements
Cooperation with business owners to understand the needs and design the best solutions
Selection of technologies, products and tools
Identification and management of risk factors related to the adopted architecture and technology
Coordination and control and implementation of System components, including installation in indicated environments
Recommending and introducing new technologies as part of the System's production
Creating documentation of the System architecture and its components at all levels of detail - including the System database, the System architectural components, data flows and integration with external systems.
Designing of IT system components in accordance with the guidelines of functional requirements and their analysis carried out by the Business Analyst - backend,
Supporting searching, analyzing, diagnosing and removing errors created during code writing (debugging), found during unit and cross-section tests and reported by end users during their tests
Supporting troubleshooting database performance issues
Reporting of planned and implemented works in the system used in the project for supporting the production, testing and debugging of software
Creating system documentation in accordance with the guidelines provided by the Business Analyst. Assist in other technical activities related to NES activities, such as supporting certification, training, sales, partner education, marketing events and providing marketing materials
Develop software applications and tools/scripts based on requirements from customers, support and field engineers and professional services team.
Help identify opportunities to up-sell services and software solutions which may be relevant to customers, based on their requests for support and tools.
International Career Opportunities
Job Title Location