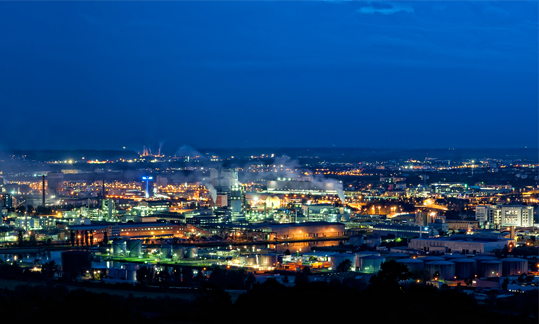 Introduction
This case study encompasses the various phases of LINZ NETZ smart metering project using the NES System. The initial phases of the project focused on providing a variety of smart metering benefits including flexible tariff models, improved billing process, customer availability of energy consumption data, energy conservation, remote connections and disconnections, ripple control replacement, load management, and street lighting management.
The most recent phase expanded the objectives of the overall project and the NES System to align with LINZ NETZ' longer term future proofing goals. This included a focus on industry leading smart grid security requirements and integration with in-home connectivity options, including wireless M-Bus communications.
Project Overview
LINZ NETZ GmbH (LN) is a distribution network operator in the greater Linz area and parts of Upper Austria and is a legal entity in the Linz AG group of companies. LINZ NETZ is responsible for the future-proof expansion, operation and maintenance of its electricity and natural gas distribution network within its officially defined supply area in Austria. The electricity network covers 1,652.5 km² of supply area and supplies approximately 440,000 people in 81 Upper Austrian municipalities, as well as the city of Linz. The energy is distributed to customers via 27 substations along with 3,000 transformer stations. LINZ NETZ has about 284,000 meters installed.
In 2007, LINZ NETZ made a decision to deploy smart meters with PLC communications for remotely reading measurements, disconnecting and reconnecting service, and load switching.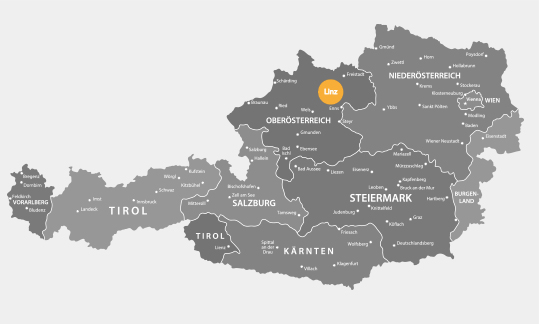 They decided to move forward with smart metering, because they wanted to improve their business processes and recognized, that regulations were changing and would require smart metering functionality. The procurement was carried out in several stages based on a public tender. S&T Smart Energy GmbH (formerly Ubitronix) emerged as the best bidder for the project, providing smart meters, data concentrators (DCNs) and Head-End System (HES) from Networked Energy Services (NES), as well as load switching devices from S&T Smart Energy, and a Meter Data Management (MDM) for connecting the HES to the Enterprise Resource Planning System from LINZ NETZ, which is implemented with software from SAP. In addition to the MDM, downstream systems and work force management system, LINZ NETZ also took responsibility for planning and installation activities. Communications between the NES Smart Meters and NES DCNs uses power line communications (PLC) based on Open Smart Grid Protocol (OSGP), and communications between the NES DCNs and the NES Head-End System (HES) utilize a combination of mobile communication 2G/3G and Fiber-Ethernet.
"LINZ NETZ is very pleased to be working with NES on this project" said Jörg Mittendorfer, LINZ NETZ CEO. "We recognize NES as being a key technology collaborator in our smart energy ecosystem and as helping our company achieve a position of market leadership in Austria. Over the years, we have been impressed with the reliability of the meters, security and communications; all of which are central to the success of our smart grid and provide us with a future-proofed technology solution."
What are the legal framework conditions in Austria associated with smart metering?
The rollout began in 2008, and since then the general conditions have changed tremendously, in particular with the revision of the Electricity Industry and Organization Act (EIWOG), the two regulations on smart meters [Intelligent Measuring Device Requirements Ordinance 2011 (IMA-VO) and Intelligent Measuring Devices -Implementing Ordinance (IME-VO)], and the coordination at association level "Austria's Energy" revised conditions for security and functionality of the intelligent measuring devices. In particular, the General Data Protection Regulation (GDPR) and the resulting national data protection law and in the future the NIS law also play their part in defining the requirements.
In 2009, the framework conditions for the introduction of intelligent measuring devices were decided at EU level. In Austria, on the basis of the Electricity Industry and Organization Act (EIWOG) with the Intelligent Measuring Instrument Implementation Ordinance (most recently IME-VO amendment 2017) it was stipulated that by the end of 2020 at least 80% of all metering points must be equipped with this technology (at least 95% by the end of 2022).
The introduction of smart metering devices is tied to the following legal bases and market rules:
• The 3rd EU single market package: This deals with the basic regulations of the energy industry in Europe
• Electricity Industry and Organization Act (EIWOG): Regulation of the general conditions for all market participants in Austria
• Intelligent measuring device requirements regulation (IMA-VO): Definition of the minimum functional scope of "Smart Meters"
• Intelligent measuring device introduction regulation (most recently IME-VO amendment 2017): Definition of the binding introduction period for network operators
• Data format and consumption information presentation VO (DAVID VO): Definition of requirements regarding data presentation (web portal) and data exchange between customers, network operators and energy suppliers
• General conditions for access to the distribution network of LINZ NETZ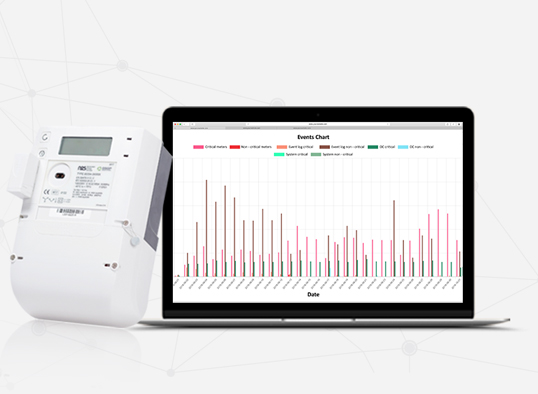 What data is being collected from the smart meters?
The NES smart meters securely record and save energy consumption in the meter up to every 15 minutes including a storage period of 60 days maximum based on legal requirements. The readings are used with consent of the customer to fulfill obligations from a delivery contract. Consumption values and related information are transferred into the SAP system, which is used for automatic billings.
In addition, other utility systems (Network Information System) receive relevant meter data. For example, LINZ NETZ can view where the meters are installed, as well as the meters' current status/data. There is a Ticket/Event system, which receives and shows meter events.
This information is used to assign technicians when needed to go visit a customer and fix a problem. In addition, power quality measurement data and meter event information are also provided by the meters. Based on the present and future legal requirements, the importance of this operational information continues to grow.
What other applications have been enabled by the NES System?
LINZ NETZ is using the NES System along with Load Management Module to switch a portion of the street lighting and different devices, such as Warm Water Heating Boilers and Floor Heating. They are able to define schedules for various times of the year for each feeder line, and they can also reconfigure the switching schedule when needed. Using centralized rule base and general switching LINZ NETZ is able to manage the consumption for an overall street.
In addition, the NES System is integrated with the end customer using a web portal to help consumers obtain energy consumption data and manage their consumption. Utilizing a connection to NES smart meters via their local interface (MEP - multi-purpose expansion port), consumers can have access to consumption values in real time. This functionality is used to engage customers more and helps them view and control their energy consumption. The MEP interface also enables sub-metering of non-electricity meters (e.g. gas, heat and water). And the ripple control system has been replaced by the S&T Load Management Modules and the capabilities within the NES System.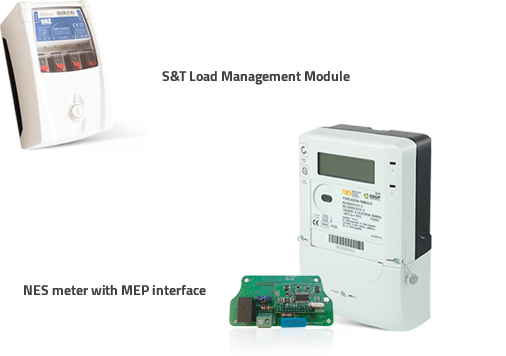 What is the system architecture – what other systems use the meter data from the NES System?
The NES System is based on a 3 tier architecture; the solution includes utility data center software, field distributed application control nodes, and grid devices and sensors, such as single phase, poly phase, and CT smart meters, and Open Smart Grid Protocol (OSGP) compliant communication devices enabled by Control Point Modules. Middleware goes to the SAP enterprise integration layer. All software architecture/web services on all layers are integrated in a very easy way.
"S&T Smart Energy has always shared the NES vision for Smart Metering and the Smart Grid, and enabling a new era of grid safety, reliability, and efficiency with the products we develop for the industry," said Dipl.-Ing. Johannes Zeindl, CEO from S&T Smart Energy. "We have worked closely with NES for many years on this project to ensure a successful integration of our teams and products in order to deliver the expected functionality and benefits to LINZ NETZ and its customers."
Why is OSGP important from the utility's perspective?
OSGP protocol allows LINZ NETZ to transmit metering records. They are using it to program and control load management, update the firmware of the components and communicate using the DCN functionality, in addition to adding third party hardware to enhance the overall functionality. The big advantage with OSGP is that it provides an open solution for interoperability and easy integration, which is secure, efficient and reliable.

Smart Metering Benefits
The NES System provides LINZ NETZ and its customers with the following benefits:


Time-variable and flexible tariff models: Enabling the management of electricity supply contracts based on daily values or quarter-hourly values. This allows customers to adjust the energy price to their own usage habits.

Transparent and timely overview of energy consumption: LINZ NETZ customers can analyze their own energy consumption via a web portal provided free of charge by the network operator.

Saving energy: Due to the timely consumption values, customers can independently identify unnecessary power guzzlers, discover incorrectly connected devices, or disconnected consumers. This can also facilitate targeting specific energy advice for consumers.

Automatic reading: LINZ NETZ receives the billing-related consumption data automatically. Therefore, customers and LINZ NETZ do not need to manually obtain the meter readings, and it is no longer necessary for customers to be present on site.

Improved accounting: With "Smart Meters", daily billing based on the measured consumption values is possible. Changes in tariffs can be billed on a daily basis.

Registration convenience: Switching on the customer system can be securely done remotely and immediately. The presence of an employee on site is no longer necessary. Consumption values can be made available directly in the customer system via a customer interface. This enables customers to connect the "smart meter" to display devices, home automation and energy management systems.

Efficient and secure network operation (security of supply): The ability to anonymously record network quality parameters is a feature to ensure efficient and secure network operation.

Ripple control functionality: The NES System was used to replace the previous ripple control functionality and avoid the need for redundant and/or additional systems to enable load management capabilities.

Due to continued technical development, it can be assumed that the requirements for the power distribution networks will increase significantly in the near future (development in the direction of intelligent grids/"smart grids", increased feed-in of decentralized generation plants, support for e-mobility applications, etc.). This will result in increased requirements for metrology. These requirements can only be met with the use of intelligent metering technologies. LINZ NETZ's long-term goal for smart metering is to reduce energy consumption, reduce the CO2 emissions associated with energy generation, and distribute electricity consumption more evenly throughout the day (avoid an increase of consumption peaks). An increase of EV cars and renewables are expected in Austria and NES will help with the migration and integration of these devices by monitoring grid voltages and loads, and assisting with stabilizing and managing the distribution network.
"We chose the NES System in 2008 for the initial phase because it was the only solution that was designed to make the grid itself more intelligent and capable," said Jörg Mittendorfer, LINZ NETZ CEO. "Our high expectations were met and exceeded with the NES System allowing us to deliver smart grid benefits to our customers. It not only gave us the most advanced communications and control system on the market for smart meters and other devices, it has proven to be a true foundation for the smart grid -- allowing us to expand our services to customers, increase the value and benefit customers derive from us, and significantly lower our operating expenses. This successful and positive experience provided us with confidence to continue working with NES and S&T Smart Energy during our second major phase."
Next Phase
In 2019, LINZ NETZ entered the next phase of the project and selected NES for the expansion of its smart meter infrastructure. This phase will add more than 80,000 single and poly-phase smart meters and supporting communications infrastructure and software, with an optional extension of 60,000 meters, to be delivered over 4 years. Part of the decision to select NES was its history of successful deployment of meters into LINZ NETZ; providing reliable smart meters to its consumers and achieving high communications SLAs using the OSGP standard for PLC communications. This means that LINZ NETZ can automatically gather metering information, update meter configuration and firmware, and monitor power quality parameters with confidence, over the wire, and without having to purchase separate communications services.

The other important aspect was NES' reputation and focus on security. The OSGP standard, which NES utilizes, provides an industry leading security solution, including AES encryption and in-built mechanisms to detect threats, attacks, and intrusion. Through collaboration with LINZ NETZ, NES provides its security solution, which includes end-to-end encryption, role-based access controls, signed firmware and software and extended audit and logging. Another feature, firmware separation, streamlines the certification process, providing greater flexibility and futureproofing to meet new security requirements on existing infrastructure.

"LINZ NETZ and the Austrian market defined smart meter security that make its consumers amongst the most protected in the world," said Larry Colton, NES Director of Global Business Development and Marketing. "We are proud that LINZ NETZ continues to utilize the NES System based on OSGP not only to deliver smart metering benefits but also to achieve its future proof vision and high standards set for security and customer communications."

The most recent phase expanded the objectives of the NES System and overall project in order to align with LINZ NETZ' longer term future proofing goals including a focus on industry leading smart grid security requirements and integration with in-home connectivity options, including wireless M-Bus communications.

The inclusion of wireless M-Bus in the NES meters, another technology innovation, means that NES meters can be used to connect to additional in-home displays presenting consumers with energy consumption information, read metering information from other utility meters and forms the basis for future-proof communication solution with other smart home devices.

Since the NES System offers backwards compatibility, all generations of meters deployed for LINZ NETZ can be managed through the same monitoring and management solution – a feature which removes any disruption through the introduction of the latest generation of meters. This enables LINZ NETZ to move forward with one integrated smart grid and smart metering solution that covers not only their entire territory but all of their customers as well.
About Networked Energy Services Corporation (NES) and S&T Smart Energy

NES is a global smart energy leader in the worldwide transformation of the electricity grid into an energy control network, enabling utilities to provide their customers with a more efficient and reliable service, to protect their systems from current and emerging cybersecurity threats, and to offer innovative new services that enable active, intelligent use of energy. NES was formed as a result of the spinoff of Echelon Corporation's Grid Modernization Division in October 2014. NES is headquartered in the US with R&D centers located in Silicon Valley, North Dakota and Poland, and sales offices throughout the world. NES' smart grid technology is used in nearly 40 million smart meters and other smart end devices around the world. NES is a member of the OSGP Alliance, a global association of utilities and smart grid companies, which promotes the Open Smart Grid Protocol and cooperates to provide utilities greater value by enabling true, independently-certified, multi-vendor interoperability based upon open international specifications and standards. You can find out more information about NES, its Patagonia Energy Applications PlatformTM (including grid management software, distributed control nodes, and smart meters) and services at: www.networkedenergy.com.


S&T Smart Energy GmbH is a 100% subsidiary of S&T AG with its headquarters in Linz with the business focus on developing and selling solutions and products for internal and external partners as well as in-house developed hardware and software products for intelligent power grids, energy providers and industrial customers. They offer complete solutions in the field of control and optimization of energy networks (distribution network operators) and generators (power plants) and are leaders in the transformation of simple electricity networks to intelligently controlled "smart grids". In the DACH region, S&T Smart Energy GmbH already has over 350,000 OSGP devices under management. Customers include energy providers such as Linz Netz GmbH, Industrielle Werke Basel (IWB), esolva AG (formerly Swiss Billing), Werkbetriebe Frauenfeld and Energie Klagenfurt. Additional information is available at: https://www.snt-smartenergy.com/